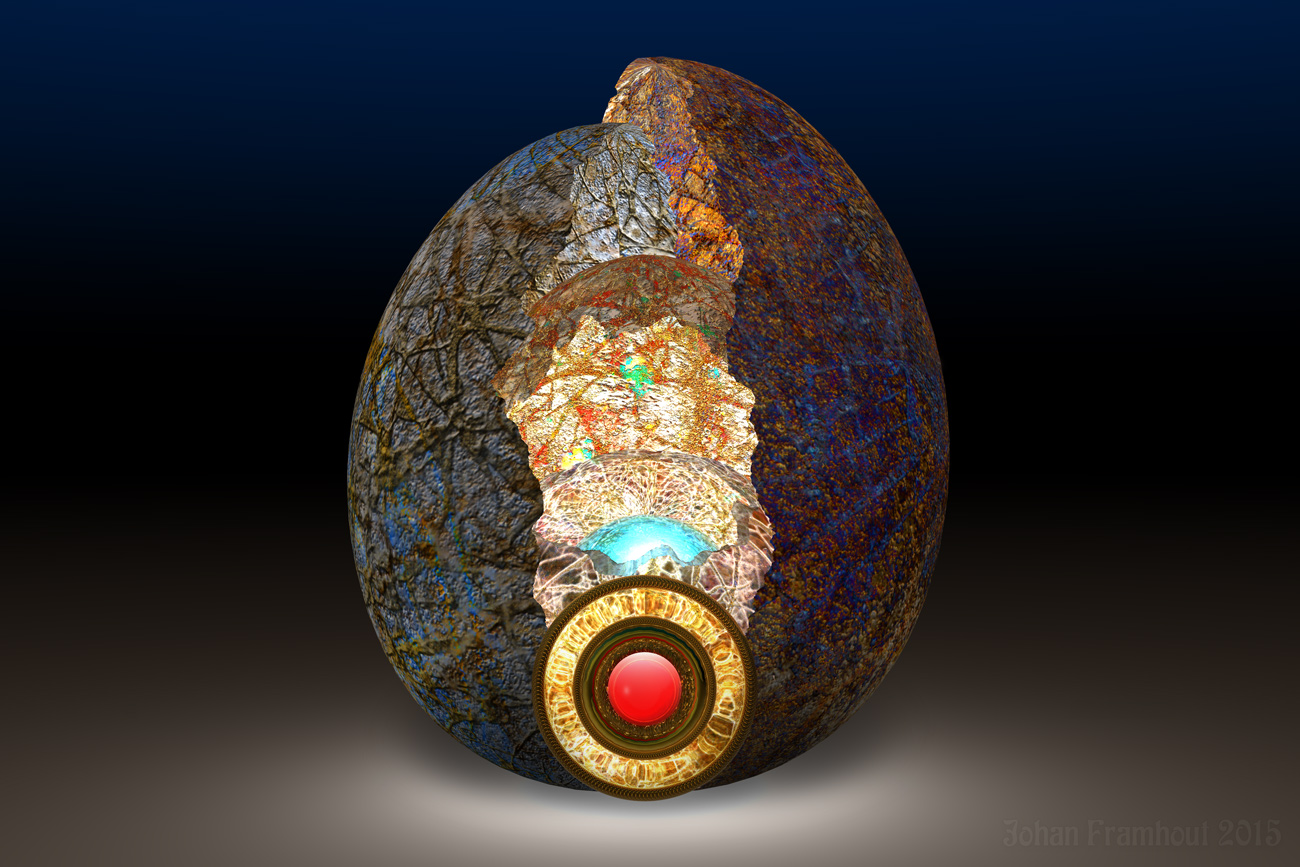 Art7D.be > 3D-art > Broken Promises, by Johan Framhout
Made in Bryce7. I made whole series of textures for myself of which I did make quite some abstract art works.
This time I used them for a render in 3D. Made a kind of glass sculpture with very bigg broken eggs.
Broken eggs made me think of Eastern eggs, which can be promises. As my father used to say:"I don't feel obliged to do
what I have promised you". This has become the new motto of our Belgian government,
instead of "Unity creates power" which has become quite old-fashioned this days.
| | | | | | | | |
| --- | --- | --- | --- | --- | --- | --- | --- |
| SHARE | | | | | | | |
Art7D.be > 3D-kunst > Verbroken Beloftes van Johan Framhout
Gemaakt met Bryce7. Ik had uitgebreide series texturen gemaakt waarmee ik nogal wat abstracte werken creëerde.
Dit keer gebruikte ik er voor een render in 3D. Een soort glassculptuur gemaakt met zeer grote gebroken eieren.
Gebroken eieren deden me denken aan het Engelse "Eastern eggs", die beloftes kunnen zijn.
Zoals mijn vader me zei: "Ik voel me niet verplicht iets te doen omdat ik je het heb beloofd".
Dit is de lijfspreuk geworden van onze huidige Belgische regering, ter vervanging van "Eendracht maakt macht",
dat tegenwoordig als nogal ouderwets wordt beschouwd.
Click again on the image if the image is too big for your screen.
Wat is er nieuw op art7D.be? Volg het op onze blog

Voeg de blog bij je favorieten!
What's new on art7D.be? Follow our blog

Add the blog to your favourites!